The Festival of Wellbeing, held on Oct 14th as part of "Mental Health" week, was a free community event for everyone in the Break O'Day region, and a celebration of all things to do with wellbeing. A day to celebrate & learn new ways to care for & create wellbeing.
WOV Break O'Day was one of the 32 Wellbeing Champions taking part in the day of demonstrations, workshops, displays, conversations and more.
Although it was a challenging venue – we enjoyed ourselves and became a roving choir moving ourselves around the venue so that everyone could hear us – it was such a cavernous space!
The workshop Lila hosted was fun and we are becoming quite clever at learning the body percussion rhythms Lila is teaching us!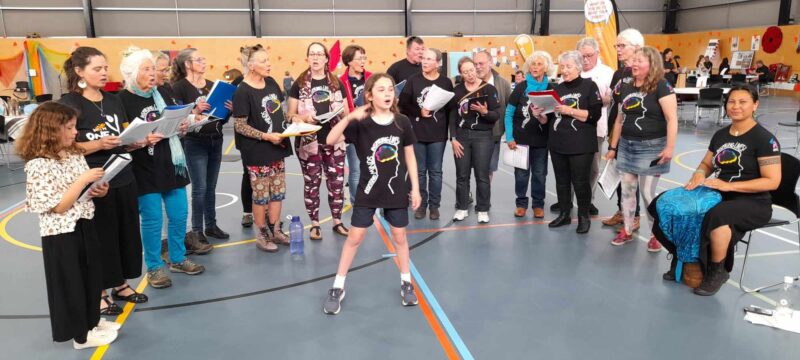 What's next for WOV Break O'Day?
December 3rd: We are supporting & collaborating with internationally renowned Tenzin Choegyal at a concert in Bicheno. Bicheno is a seaside village here in Tasmania & Tenzin's theme for the concert is "Be the Ocean." Lila is composing an original piece for this concert with phrases that we offered her at choir for her to work with.
Then, of course, the much-loved series of Christmas Carol events that keeps us happy and busy for the rest of the year.
We love our choir family & look forward to 2024 with enthusiasm!