With One Voice is a national network of community-run choirs that brings together people from all walks of life through the power of music. Our choirs welcome people aged 9 to 90, from all faiths, cultures, and backgrounds.
With One Voice choirs are based on fun first and foremost. They facilitate coming together, finding your voice, and finding deep human connection through music.
Our experienced conductors will make sure everyone gets to experience the joy of singing together.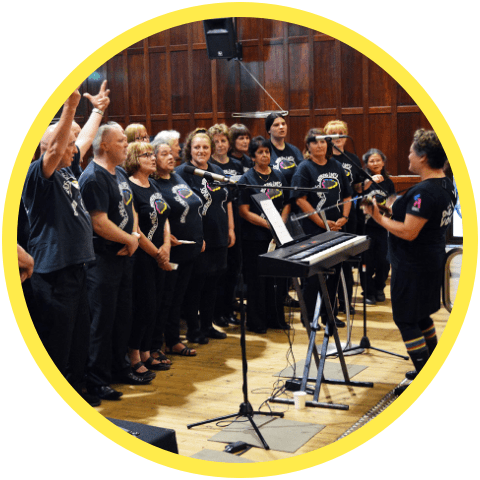 No Auditions

No prior experience required

No need to read music

A choir for everyone!
With One Voice has been a life-changer for me. It's been a weekly source of active, healthy fun, and I've met so many wonderful people there that have become close firends.
I encourage anyone to come and give it a go! Just do it! The community within the choir is so kind and supportive, and we really do have a lot of fun!
I'm so glad I made the leap and joined the With One Voice family. The fact I can't sing perfectly didn't matter at all – Kym taught me everything I needed to know. I haven't missed a week since I started.
I can't believe it's been nearly eight years now I've been with the choir. I was very nervous at first, but everyone was so friendly and helpful. It's one of the best parts of my week now, and I can't wait for Wednesdays to come along!