Welcome to With One Voice Hobson's Bay!
With One Voice – Hobsons Bay is a community of friendly, like-minded people who love to sing. Open to all.
No auditions or experience necessary
Come and experience the amazing transformative power of singing together. Learn, grow, express yourself, and find your voice in a supportive and nurturing community. We welcome all ages, abilities, faiths, cultures and genders.
Our professional musical director, Steph Payne, conducts our weekly rehearsals and we have wonderful performance opportunities locally and through the With One Voice choir network.
First visit free. Ongoing participation by tax-deductible donation.
Expression of interest - Hobsons Bay
Please fill in some details so we know to expect you next rehearsal!
REHEARSAL DETAILS
When: Friday afternoons, 1:30 – 2:30pm
Where: Luis Joel Arts & Community Centre
Address: 5 Sargood St, Altona VIC 3018
CONDUCTOR
Steph Payne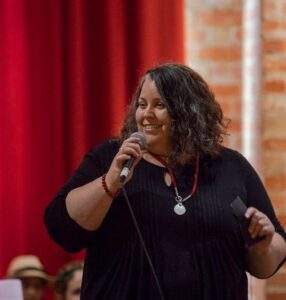 (Learn more)